Description
A REVOLUTION IN FLOOR PREPARATION TECHNOLOGY
Diamabrush™ is a unique diamond abrasive floor preparation system for concrete floor polishing, mastic removal and hardwood prep.
The Diamabrush™ System is comprised of four different tools, each designed to be used on standard low pressure commercial cleaning machines including single discs, walk behind auto scrubbers and ride-on auto scrubbers.
Rejuvenate concrete floors with Diamabrush™ by Malish.
The Diamabrush™ Polishing System is the most significant innovation in concrete polishing in the last 50 years.The System transforms ordinary cleaning machines into concrete polishing machines through everyday cleaning routines. No need for heavy, expensive equipment or harsh chemicals.Progressing through a series of increasing finer diamond grits, the pores of the concrete are progressively closed, ultimately resulting in a retail-like finish.The multi-step system provides the flexibility for the user to choose how many steps are needed to achieve the desired surface finish.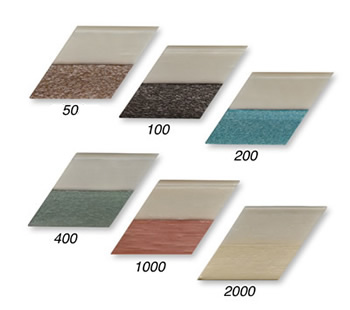 SIX POLYMER BLADES:
Starting with the 50 grit Gold polymer and progressing through 100 Black, 200 Blue, 400 Green, 1000 Red and 2000 Tan grits, polished floors are a few steps away. Simply apply water and continue the polishing process. The flexible blades allow the diamond to remain in constant contact with the floor, maximizing the tools effectiveness. New diamond particles are continuously exposed, retaining sharp edges throughout the life of the tool.
With the Diamabrush™ patented polymer blades, polishing and maintaining concrete floors has never been easier.
Similar to other Diamabrush™ products, the polymer blades are replaceable. Each tool is designed around removable, slotted retainers. Rather than replace the whole tool at the end of blade life, simply order a blade replacement kit. This innovative feature enhances the life of the tool.
Patent Pending.
CALL TODAY FOR MORE INFORMATION AND YOUR PRICING