Quick Charge Battery Chargers:
These chargers are programmable to charge wet cells, gel's, AGM's, and Lithiums
Programmable to Charge all Industrial Batteries, Digital volt/ammeter, Current Limited, Tri
Color LED to Track Charge Cycle Progress, 3 Year Warranty
Golf Carts, Floor Scrubbers, Personnel Carriers, Railroads, Aircraft, RV's, Automotive, Pallet
Trucks, All Material Handling, and Industrial Applications
Description
Standard Portable Chargers
General Purpose Charger for Automatic Floor Scrubbers
Information:
Quality: 100% copper transformer based design. Heavy duty rectifiers.

Reliable: Doesn't use delicate electronics

Safe: Current limited, and reverse polarity protected. Slow turn on with as little as 2 bolts in batteries

Full Featured: Switchable LCD volt/ammeter. Tri-colored LED to monitor charge progress. Programmable via internal dip switch. Charges all lead acid batteries. Optional temperature compensation. Avaiable with a variety of DC plugs.

Made in the USA 3 year warranty
FEATURES:
Internal dip switch allows programming the charge profile for gel, AGM, wet cell deep cylce, and starting batteries. Can be calibrated for Lithium Ion too.
Switch the LCD display to monitor volts and amps.
Tri color LED monitors charge progress
Current Limited
Reverse polarity protected
Turns on with as little as 2 volts
Optional temperature compensation for maximum battery life
See photos to left for all chargers and plug you may need.
Choose the CHARGER and the attachment PLUG and COLOR for your machine from the bullet list. All 3 must be checked.
Chargers are built to order. Make sure of the correct one before ordering. If you need help deciding call us.
NO REFUND on charger ordered wrong

Battery Charger Instructions
NOTE: May take up to 14 days to ship. Each charger is built to order in the USA
Works with:
Golf Cars

Electric Vehicles

Automotive

Floor Scrubbers

Pallet Trucks

Railroads

Aircraft

RV's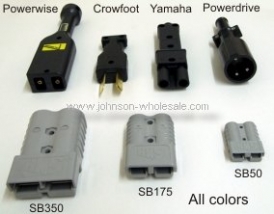 Red or Gray