Description
The Pacific FloorcareTM S-20 family of
scrubbers offers premium specifications
and performance at highly affordable
prices. The S-20 disk model is perfect for
your daily floor cleaning programs while
the S-20 orbital model is multi-functional
by delivering superior performance in
either your daily floor cleaning or finish
maintenance programs.
Each S-20 model is appointed with a feature
set that is unique in its class. And, when
you look at them closely, you'll see the
benefits they bring are unmatched. For more
information, review the short descriptions
on the next page and utilize the selector
guide on the last page – you are sure to find
a unit that is Purpose BuiltTM for you and your
operations.
Top 10 reasons to purchase S-20 Video
S-20 Overview Video
S-20 Orbital Presentation Video
S-20 Operation and Controls Video
End of Shift Maintenance Video
S-20 Disk W Pad Assist Drive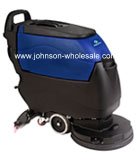 The S-20 disk head scrubber with pad assist drive may very well be the
best value in auto scrubbers. This machine features specifications and
attributes you would find in the premium price ranges, but at a midmarket price and is Purpose Built™
for:
• Daily scrubbing of small-to-medium facilities
• Small rooms, detail & edge cleaning in large facilities
• Grout & porous floor scrubbing
• Main hallways plus entryways & lobbies
• Checkout aisles
• Spill cleanup & water recovery
S-20 Disk With Traction Drive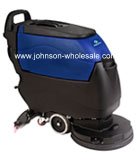 The S-20 disk head scrubber with traction drive delivers an elegant
simplicity that your operators will love. From the automated brush
on/off system to the ergonomic, full-activation handle to the selfadjusting splash skirt, the S-20 provides high value in a package that is
Purpose Built™
for:
• Daily scrubbing of small-to-medium facilities
• Small rooms, detail & edge cleaning in large facilities
• Grout & porous floor scrubbing
• Main hallways plus entryways & lobbies
• Checkout aisles
• Spill cleanup & water recovery
S-20 Orbital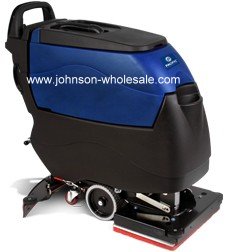 The S-20 orbital head scrubber comes standard with traction drive,
has top of class features and is Purpose Built™ for:
• Deep scrubbing or strip jobs of small-to-medium facilities
• Dedicated facility or multi-facility cleaning programs
• Small rooms, detail & edge cleaning in larger facilities
• Chemical-free finish removal!
• Grout & porous floor scrubbing
• Entry-ways & lobbies
• Check-out aisles
• Spill clean-up & water recovery