All the vacuum bags we have available click here
GREEN KLEAN REPLACEMENT VACUUM BAGS FOR WINDSOR SENSOR S12, S15, SRS12, SRS15, SRS18, SENSOR XP MODELS XP12, XP15, XP18, SRXP12, SRXP15, SRXP18 / VERSAMATIC PLUS, ALL STAR JAVELINE 12 SERIES, SEBO X1, X2, X4, AND X5, SEBO G SERIES MODELS G1, G2, SEBO 370, PROCHEM PV12 & U-VAC, UPV12, CENTURY 400 SERIES, KARCHER CVU30/1,CVU36/1, CVU 46/1 TRIPLE LAYER BAG (OEM# 5300, 8.600-050, 9.840-6430, 5093AM)
Description
GK-5300 Vacuum Bags, Windsor Sensor, Versamatic Plus and more.
Green Klean® Superior Quality Replacement Vacuum Bags are specifically designed for the Janitorial Professional and are backed by the Green Diamond Warranty. Made from the highest quality materials to achieve filtration efficiencies up to 99.9%
Fits Windsor Sensor S12, S15, SRS12, SRS15, SRS18, Sensor XP Models XP12, XP15, XP18, SRXP12, SRXP15, SRXP18 / Versamatic Plus, All Star Javeline 12 Series, Sebo X1, X2, X4, and X5, Sebo G Series models G1, G2, Sebo 370, ProChem PV12 & U-Vac, UPV12, Century 400 series, Karcher CVU30/1,CVU36/1, CVU 46/1
(OEM# 5300, 8.600-050, 9.840-6430, 5093AM) GK-5300
Designed for commercial use; equal to/exceeds OEM quality
Exclusive Green Diamond Warranty
Buy in bulk and save!
10/10 packs per case Total 100 Bags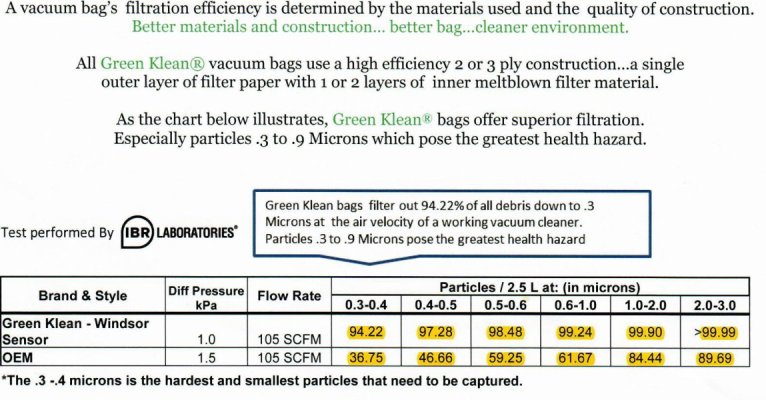 GK-5300 Windsor Sensor, Versomatic Plus and more (OEM# 5300, 8.600-050, 9.840-6430, 5093AM)